Peter Keen
Position: Goalkeeper.
Date of Birth: 16/11/1976.
Seasons With Gateshead: 2005/06 Onward.
Profile: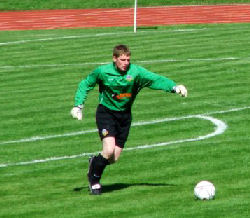 Peter Keen joined Gateshead in the summer of 2005 on a free transfer from Scarborough where he made four appearances the previous season. Starting his career at Newcastle in 1995 he stayed at St. James' Park until 1999 when he joined Carlisle. Peter made 66 appearances for Carlisle between 1999 and 2004 and also scored a goal in the league. During the 2000/2001 season Peter joined Darlington on loan where he made a further 7 appearances in the league before moving to Scarborough.
Peter has already proved himself to be an asset with Gateshead taking over from Darren Horrigan (who has now moved on) as the number one keeper.