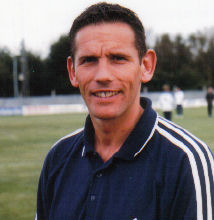 Player Number Two
Full Name: David Sam Kitchen (known as Sam).
Position: Defender.
Appearances: 288.
Goals: 10.
Date of Birth: 11/06/1967.
Place of Birth: Rinteln, Germany.
Seasons With Gateshead: 1995/96 - 2001/02.
Hall of Fame Status:
Sam Kitchen joined Gateshead after a spell with League Clubs Doncaster Rovers and Leyton Orient. From his first season he teamed up with captain Jeff Wrightson and later took the armband when Wrightson left the club. Sam was a popular player with the supporters and was seen as an inspiration to young defenders he teamed up with. Tony Hall joined Sam in the season the club beat Halifax in the FA Cup 1st Round. Sam has kept an eye on Gateshead's progress in recent seasons and while with Durham City he was happy to return to the team when troubles off the field saw many players depart. Only a broken ankle put an end to a return everyone would have welcomed.