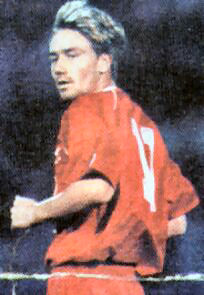 Player Number Five
Full Name: Paul Proudlock.
Position: Midfielder/Attacker/Manager.
Appearances: 364.
Goals: 50.
Date of Birth: 25/10/1965.
Place of Birth: Hartlepool.
Seasons With Gateshead: 1993/94 - 2001/02.
Hall of Fame Status:
'Proudy' joined Gateshead after spells with home town club Hartlepool, Middlesbrough (where he represented the club in all divisions of the football league), Lulea (in Sweden) and his final league club Carlisle United. Paul joined Gateshead at the start of the 1993/94 season and later became a coach and then managed the side before resigning "because of his love for the club". When he left Gateshead he joined Bishop Auckland but refused to play against his old club later that season.
With 364 appearances 'Proudy' is second only to Simon Smith in the all time appearance chart and Proudlock also scored his fair share of goals netting 50 times.