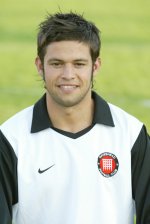 Paul Thompson
Position: Midfielder/Attacker.
Appearances: 315 (up to the end of the 2004/05 season).
Goals: 107 (up to the end of the 2004/05 season).
Date of Birth: 17/04/1973.
Seasons With Gateshead: 1995/96 - 1996/97 & 1998/99 - 2003/04 & 2004/5 - Onward.
Profile:
When Paul Thompson joined at the start of the 1995/96 season from Hartlepool there were high hopes that he would team up with Paul Dobson and the club would have one the best strike-forces in the Conference. Unfortunately Dobson left four months into the campaign, but Thompson teamed up with new striker Steve Harkus. The following season Thompson top scored with 22 goals and joined Stevenage Borough for an estimated £12,000.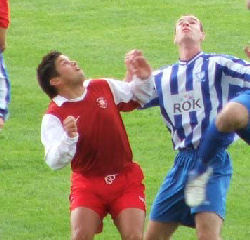 An injury put a hamper to his first season at Stevenage but he did appear against Newcastle in the FA Cup match that season. Towards the end of his second season with Stevenage Thommo returned to Gateshead on-loan and then re-signed during the close season.
Thompson then went on to score 100 goals in 301 appearances as well as captaining the side before leaving before the start of the 2004/05 season because of the uncertainty of the future for Gateshead FC. He joined Bishop Auckland and then Blyth before moving into the Northern League.
Thompson returned in February 2005 after an unsuccessful spell with Whitley Bay and scored on his (that's 101 and counting) return against Frickley Athletic with a late equaliser. At the end of the season (despite missing the last three matches) Thommo was on 107 goals and 315 appearances.
Click here to watch Thommo score his 101st goal.