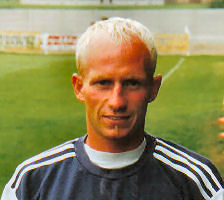 Player Number Four
Full Name: Steven Bowey.
Position: Midfielder.
Appearances: 188.
Goals: 51.
Date of Birth: 10/07/1974.
Place of Birth: Durham.
Seasons With Gateshead: 1996/97 - 2001/02.
Hall of Fame Status:
Steve Bowey first joined the club on loan from Bristol Rovers when Jim Platt was appointed manager. Steve proved himself instrumental in helping the side climb the table and joined permanently before the start of the following season.
'Bowser' became a star player in following seasons and instantly noticeable with his blonde hair. League Clubs from around the country were hot on his trail but he stayed loyal and featured in the side who beat Halifax 1-0 in the FA Cup 1st Round.
When the clubs major sponsor pulled out half way through the 2001/02 season though Steve felt it was time to move on and joined Scottish outfit Queen of The South who he later captained. 'Bowser' has said that one day he will return to Gateshead and this could happen by the 2006/7 season when his contract at QOS runs out.