Liam Bell
Position: Left Back/Striker.
Date of Birth: 08/08/1987.
Seasons With Gateshead: 2004/05 Onward.
Profile: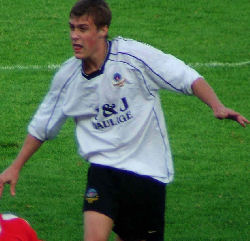 Liam Bell came through the ranks of Gateshead FC. Last season he played up front for the Reserve team scoring his fair share of goals. Liam was then given his chance in the First Team where he made nine appearances without scoring. During pre-season for the 2005/06 season Liam was switched to Left Back and when the season started he replaced Mark Atkinson in that position and has performed well. Liam is still in his teens and looks to have a bright future at the club.
Interesting Fact: Liam is the son of chairman Derek Bell.