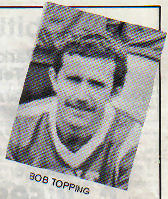 Player Number Seven
Full Name: Robert 'Bob' Topping.
Position: Forward.
Appearances: Unknown.
Date of Birth: Unknown.
Place of Birth: South Shields.
Gateshead Record: Bob is our all time top scorer with 129 goals.
Hall of Fame Status:
Extracts taken and modified from his testimonial programme shared with Terry Hibbitt in 1984.
In 1977 Bob became a Gateshead player and he made his debut in Northern Premier League soccer at Morecambe on November 1st. His first goal for the club came on 3rd December of that year in a home tie against Workington in which The Tynesiders lost 3-2.
Over the course of seven seasons Bob hit no fewer than 125 goals for Gateshead despite the fact that he played only eleven games in 1981/82 when a knee injury kept him out of the reckoning from mid September to the end of the campaign. Bob also missed three months during the 1983/84 season. A red-letter day for Bob was on New Years Day 1982 when he hit his 100th goal for Gateshead in a 6-0 defeat of Goole Town.
Bob netted seven hat-tricks for Gateshead as well as numerous braces of goals. His hat-tricks are as follows:- v Runcorn 15th April 1978, v Shildon 21st October 1978 (FA Cup), v Whitley Bay 13th October 1979 (FA Trophy), v Morecambe 5th September 1981, v Frickley Athletic 28th November 1983 (Bob Lord Trophy), v Boston United 7th January 1984 and Weymouth 3rd March 1984.
Latest News (10th February 2006)
For a while now Paul Thompson has been chasing Bob Topping to be top scorer for Gateshead.
However, after going through all the programmes somethign has been discovered.
THE STATS ARE WRONG!!!
In 1984 Bob Topping had a testemonial and in the profile it says "Bob has scored no fewer than 125 goals". At sometime in the future this was seen as his record for the club. Unfortunately (for Thommo at least) Topping actually scored 129 goals for the club. Two goals before the testemonial and two in the following season - his last for the club.
So Thommo still needs 12 goals. We will be going through Thommo's records soon to make sure he does have 113 goals to his name.